Acquiring A New Edition To Your Family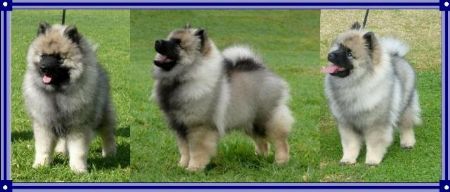 The Keeshonds character has a unique charm that boasts a sense of humour, rarely found in other breeds, and an enjoyment for life which is delightfully infectious. His intelligence exudes from his quick witted and amazingly observant nature and his sheer good looks will make you forgive him every time. Ideal as a child's playmate he can join in their games however rowdy and rough with no fear of getting out of hand. Whether you are looking to enter the show ring, obedience trials, agility trials, flyball trials or adopt a loving family pet, the Keeshond will make an exciting addition to the home lifestyle.
So, you have decided the Keeshond is the dog for you. There is no doubt that this purchase should receive careful and thoughtful consideration. After all, it's not a loaf of bread you're buying! This little bundle of energy will be a member of your family for a decade or more.
Are you ready for a puppy?
Have you completed a full research on the breed?

Do you have time to properly train and socialize a puppy?

Do you have the patience to make it through the puppy training process?

Are you willing to take full responsibility for the dog throughout its entire life?

Can you afford to provide a proper diet and necessary vet care including any other related expenses?

Are you willing to ensure that your dog receives adequate physical activity and mental stimulation?

Are you willing to commit to grooming your new addition?

Will you advise us and keep us up to date on your dog's accomplishments and health updates?
Perhaps an older dog would suit you better?
Don't have the time to spend training a puppy?

Have another dog that needs a companion?
From time to time we may have either a puppy or a retired older show dog available to be the next member in your family home. For puppy or older dog enquiries please don't hesitate to call or email. To see when our next litter is planned for please check the 'Planned Breeding' page.
Contact Details
Ray, Marilyn & Tracey Parker
Kenthurst, NSW, Australia
Phone : 0438 407 497
Email :
[email protected]